Brenda and Bud Hoshaw own Redhawk Ranch, an 18-acre, Native American retreat in Wimauma, and they want to share it with others. Located at 4110 C. R. 579 in southern Wimauma, it offers visitors a chance to get away from it all in a safe, serene and natural environment. LOIS KINDLE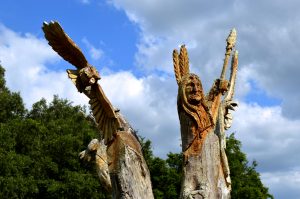 Redhawk Ranch is a little piece of heaven that has a definite story to tell each and every person that walks here. Mother Earth is a gift from the Creator to all creatures on this planet and we would like to share the magic with those that desire something good and real in their life.
This land has changed our lives so much for the better since we moved here in 2002. We have come to appreciate the beauty and serenity of nature at it's best. We sit on our big back porch and listen to all the birds singing – especially the red tailed hawks who seem to be on this place in great abundance.
A spring fed creek runs along the southern border the full length of the 18 acres of the ranch and even has a couple of small waterfalls that have the most calming effect when you take the time to just sit and listen … to connect.
We also have 3 picnic tables that are in a lighted shelter house for a day or night time get together and a charcoal and a gas grill that may be used at any time throughout your visit with us. Four large porch swings hang in different areas of the property for resting or reading that special book that you may not have found the time or place to read. Our East corner has a big swing among the trees for private meditation or prayer.
The awakening that each person experiences when they walk onto this land is almost life changing. The sounds of the waterfalls and the cry of the hawks and eagles are unmistakable signs of the glorious creations we miss in our everyday journey through this life. This is the perfect atmosphere to find the gift of meditation and healing.
We offer Native American circle on a given Saturday each month that begins at dusk for anyone who would like to come join us. Bring food to share and a chair to sit in the circle. The circle is to remind us that everything is in a circle – life is a circle and all that is in it. We learn to connect with the things that seem to be forgotten and to appreciate all that we have – it is a gift. We all need to be more aware of each other and realize that sometimes it is the smallest things we do that means the most – Love and Respect.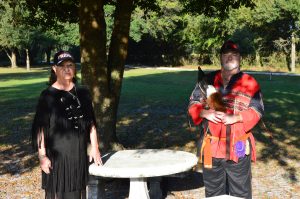 My name is Brenda Hoshaw my native name is "Quahneah" and I am of Cherokee and Cheyenne decent which is why the native path is so very much in my heart and the path I wish to walk. I came to Florida in 1984 from southern Indiana and met Bud in 1995. My husband is Bud Hoshaw and his native name is "Red Feather". Bud is of Menominee decent and moved to florida in 1988. We married and in 2002 were led to this property where our hearts and spirits have been renewed with the ways of the Great Spirit and we wish only to be the caretakers of this great and spiritual land and to share it's beauty and pure energy with those who wish to experience an awakening. We will walk the path with the best of our ability to bring only honor to those who have walked before us.
"THE NATIVE WAY" is our shop here on the ranch. We offer our own handmade items such as dreamcatchers – prayer fans – hand painted boxes – drums – tools – period correct weapons – new and used items and we also have the "Somatron" vibroacoustic chair. The chair is the most relaxing experience and the music plays through it to give vibrations …