Drop us a Line
We love to hear from our friends
More Info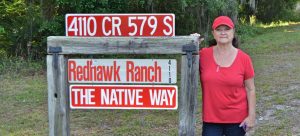 Red Hawk ranch is located on 18 acres of pristine Florida landscape, in the heart of central Florida. Our land was previously inhabited by the Tocobaga Indians, and it is now available for special events, celebrations and Native American day retreats.
Address: 4110 CR579 S
Wimauma, FL 33598
Phone:Brenda 813-997-9639 | Bud 813-638-5347
Store Business Hours: Fri-Sat 10am to 6pm
Special appointments available via email request.
Property Hours: Based on Availability and Event Schedules
Proudly owned and operated by Bud and Brenda Hoshaw